Using our exclusive and proprietary Fluorescent Ink Printing Process.
PHAZERZONE, BAZOOKA BALL AND LASER TAG ARENA DESIGN
Choose from any of our fantastic Arena Designs or we can help you create your own!
Variations of these designs can also be used to theme Party Rooms!
PLAYING IN A MEDIA VISION ARENA IS LIKE BEING INSIDE YOUR FAVORITE BLOCKBUSTER MOVIE OR VIDEO GAME!
ACTUAL PRINT FILES AND ARENAS PICTURED. DESIGNS SUBJECT TO CHANGE.
Whether your building a PhazerZone Paintless Paintball, Bazooka Ball or a Plazma Force Laser Tag System we can custom design and build an arena to fit your needs!
MAXIMIZE YOUR ARENA CASHFLOW!
You can build one arena and play either PhazerZone Paintless Paintball, Bazooka Ball or Plazma Force Laser Tag in the same space! Give your customers more gaming options and expand your business without building a whole new arena!
From classic 3 panel barrier style designs built with fire resistant treated vinyl and metal poles and fittings to our PhazerZone Extreme ultra realistic player environment we can build and arena to fit any budget and any space! Call and we'll be happy to prepare a free quote!
Our PhazerZone, Bazooka Ball and Plazma Force Laser Tag Arenas are built using our
exclusive and proprietary Fluorescent Ink Printing Process.
Developed by and available ONLY from Media Vision Inc. this process allows us to produce stunning and detailed large format Glow-In-The-Dark graphics without the use of any airbrushing!
Our PhazerZone, Bazooka Ball and Plazma Force Laser Tag Arenas are built using our exclusive and proprietary Fluorescent Ink Printing Process. But it's not just for combat arenas, this process can also be used in other facilities such as
Glow-In-The-Dark Mini Golf Courses, Party and Play Rooms, Haunted Houses, Dark Rides,
Theme and Amusement Parks, Arcades and many more!
PICTURED ABOVE: MINI GOLF ARTIST CONCEPT. ACTUAL WESTERN GAME TARGET BACKDROP, CLONE WARS GAME WALL MURAL PRINTED FOR KENNEDY SPACE CENTER EXHIBIT.
Proud Winner of the
2010 IAAPA Brass Ring Award
First Place - Best New Product
Technology Applied to Amusements
ALL MEDIA VISION ARENAS CAN INCLUDE:
Real time electronic Scoreboard with built in speakers and sound effects package and electronic targets.
Home Base barriers if required.
Color coded team barriers.

OPTIONS AND ADD ONS FOR ANY ARENA CAN INCLUDE:
Additional black lighting effects.
Fog machine.
Additional background sound effects.
Additional digital printed signs, panels & props.
3D BARRIER PROP STYLE ARENA BARRIERS
At Media Vision we have built may types of barriers for many different arenas but over the years these designs have proven to be the most popular. We start with basic design shapes like a standard "L" shape (1-L), Cubed Barrier stacked together (2-C) and the Zig-Zag Barrier (3-Z). Next we have our advanced "T" shape designs featuring detailed cut outs and shapes. The 19-T is a simple cut out design and the most economical (and popular) for those on a budget but who want more than the basic barriers. The 12-T and the 13-T cost a bit more but feature unique cut out designs. The 12-T features staggered brick edges and a half window on the back wing of the barrier. The 13-T features an uneven cut out pattern as if it were broken stone or concrete. Then we have our custom designs. The 14-Z and 15-Z are variations of the Zig-Zag design with staggered edges and a cut out window. The 16-L is a combo of a Cube Barrier and a basic "L" shape but taken to a whole new level with an upper arch that attaches to the wall and a hanging sign. The sign usually says "Subway" (but can say anything) and this barrier is designed to be placed in the corners of your arena.
In addition to these custom barrier designs pictured here we can work with you to build any kind of shape or design as well as custom arena center pieces and entrance archways and facades (see below). No matter what style or shape you pick we can skin it with our Fluorescent Prints to look like anything from an ancient stone temple to a jungle rain forest.
---
NEW!

PORTABLE BARRIERS

Solid wood construction
Finished edges
48" x 36" footprint
Easily slide together
Convenient flat pack storage and shipping

Finish them off with our exclusive
GLOW-IN-THE-DARK
Fluorescent graphics and the
theme of your choice!

Great for gyms, clubs or rentals where
permanent barriers are not required.
Pictured above: Bazooka Ball Arena, Kidnetix Edu-Play Centre, Brampton Ontario, Canada
---
CUSTOM DESIGNED ARENA ENTRANCES AND ARENA CENTER PIECES
---
INFLATABLE BARRIERS AND ARENA PROPS
| | |
| --- | --- |
| Media Vision is also your source for a wide range of inflatable barriers and props in many different shapes and designs. These are perfect for outdoor play using our PhazerZone Predator Electronic Laser Tag System. | |
TAKE A TOUR OF OF OUR INFLATABLE PHAZERZONE LASER TAG ARENA...
| | |
| --- | --- |
| OUTSIDE OF THE INFLATABLE PHAZERZONE LASER TAG ARENA | |
| | |
| --- | --- |
| | CHARGING STATION AT THE INFLATABLE PHAZERZONE LASER TAG ARENA |
| | |
| --- | --- |
| INTERIOR OF THE INFLATABLE PHAZERZONE LASER TAG ARENA | |

This unique and versatile PhazerZone Inflatable Laser Tag Arena can be set up and operated in locations where a permanent structure cannot be built. Complete with Laser Tag guns, charging station, electronic scoring package and glow-in-the dark black light special effects.


| | |
| --- | --- |
| | BATTERY CHARGER |

| | |
| --- | --- |
| LASER GUNS AND VESTS READY FOR ACTION | |

WE CAN CUSTOM DESIGN YOUR PHAZERZONE INFLATABLE
ARENA WITH YOUR OWN DIGITAL PRINTED GRAPHICS!
CALL US TODAY AND WE CAN QUOTE YOU ON
THE PHAZERZONE INFLATABLE LASER TAG SYSTEM!
BAZOOKA BALL INFLATABLE ARENA
40 x 60 FOOT INFLATABLE BAZOOKA BALL ARENA GETS CHECKED OVER BEFORE GOING TO IT'S NEW HOME IN ALIVIN TEXAS.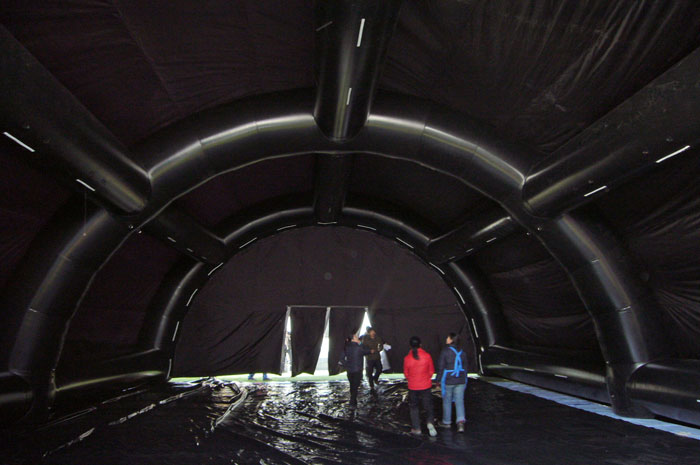 MEDIA VISION INC.
Creator and Manufacturer of The PhazerZone Paintless Paintball Combat System,
Plazma Force Laser Tag, Bazooka Ball, Inflatable Amusements, Bouncers & Target Games

4 Cannon Court, Whitby ON Canada L1N 5V8
Tel: 905-430-7677 - Fax: 905-430-1944 - Toll Free: 1-800-672-9401

Disclaimer: Product descriptions subject to change.
Complete Multi Player Media Vision and Game Systems are all custom built to client specifications
each project requires a 50% deposit before production can begin.
Deposits are only refundable if order is cancelled before production begins and/or up to 6 months from the order date.
Media Vision Inc. provides leasing options from these partnered companies
Mary Liden (866) 517-2733
Fax: (360) 765-3033